This post has affiliated links. Read more about our affiliated link program here.
Hello, all! This week, I transformed my entry way! This was the one area that never really felt inviting, and it should because it is the first thing you see! I will share all of the products I purchased make this happen, and I only spent $48!
First, I purchase this Mainstays rug from Walmart. This week, all of my links will come from Walmart or Target. I got all items in store! It cost me $11.44.
I have been a huge fan of the rug on rug concept, so that is exactly what I did! The second Mainstays rug is also from Walmart. I chose this one, for $19.99, and I think the rugs complement each other wonderfully!
You can pair any rugs together that you like. I specifically liked the "hello" rug, so I just picked a complementary rug that was inexpensive. I knew rugs could totally destroy my budget, so I looked at price tags before looking at patterns!

The bigger rug wasn't even my in-store favorite, but I knew, in the end, I would only remember how much I spent.
Two of the decor items were completely free! No, they weren't gift, but instead, they were found in the dumpster! I love dumpster diving, which is how I found the red table, and my faux fence.
The table was originally a black, with a faux granite top. It had dings and scratches, and frankly, it was ugly. I spray painted it red, years ago, and it has been a constant on my front porch ever since. If you don't want to look for valuables in the dumpster (totally understandable!), keep your eye open as you drive down the road. There are tons of people that throw out perfectly good furniture that can easily be remodeled.

My faux fence was built from dumpster wood! I aligned pieces the way I wanted them to look, and screwed the pieces together with some wood in the back. It was that easy! You can make this with any scrap wood and wood screws, which most people have lying around. Right? Or is that just me…
Some people put up "Welcome" signs, but that was out of my budget. You can find really cute ones on Etsy! Here is an example. You can get this from $19.99 to $69.99, depending on the size that you want. Like I said, this was out of my budget, so I, sadly didn't get to indulge in this decor… not yet, anyway!
I decorated the red table with pinecones that I found in the yard. I considered actually buying pinecones; can you believe it?! Thankfully, I was able to find these for free!

I purchased this Magnolia Farms Vase from Target, and filled it with greenery that I had around the house. In the spring and summer, I will fill it with wild flowers! This only cost me $10.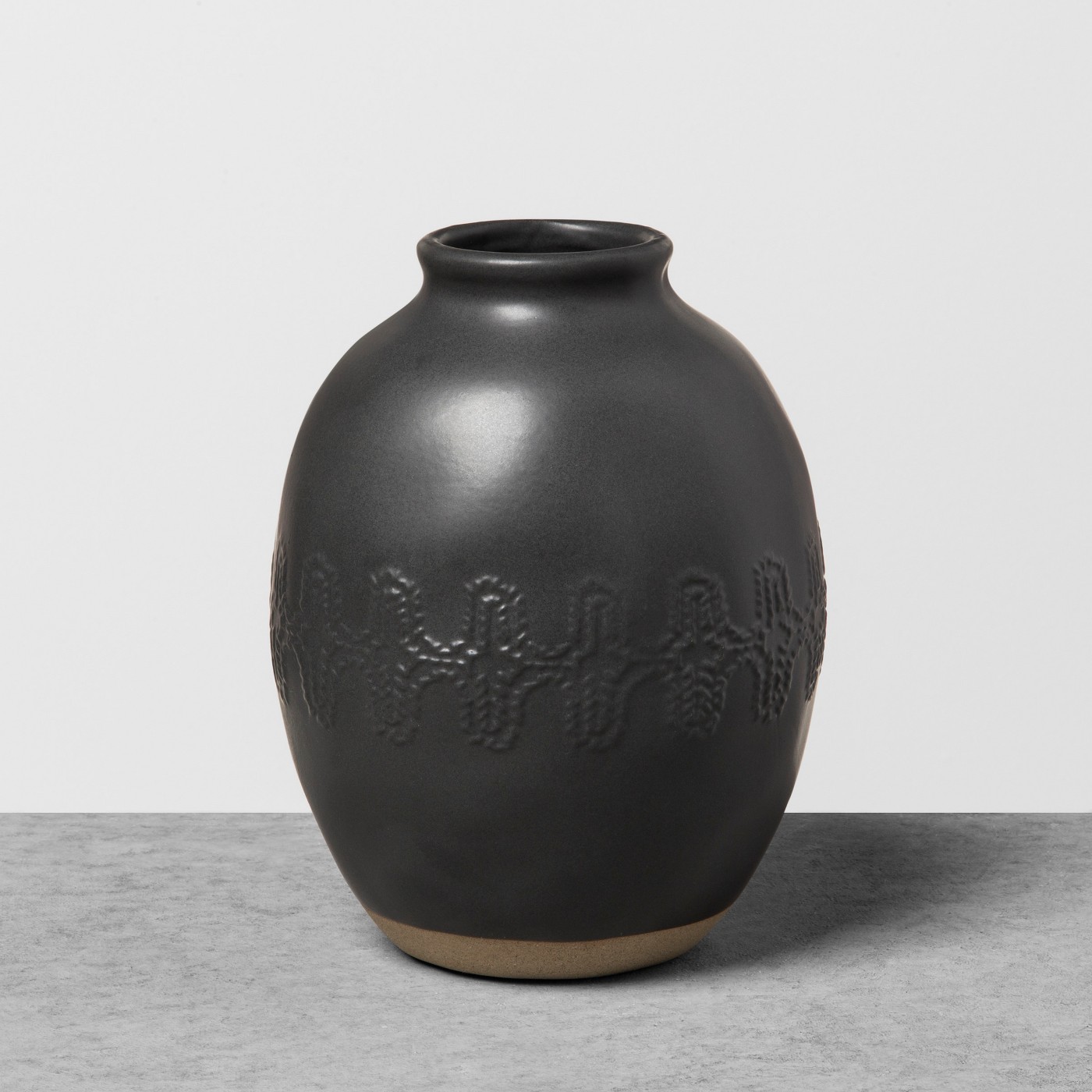 I also found a tiny, faux succulent in Bullseye's Playground in store at Target. Sadly, I cannot put a link to this item, because it is an in-store exclusive. If you go to your nearest Target, I'm sure you could find something that would fit your needs! Here's mine:
The succulent is inside a little mug that I made from a wine glass a while ago. You can get one like this on my Etsy page in a few days!
Lastly, I bought a glass wine keeper from the Dollar Tree. There are tons of awesome decor items at the Dollar Tree, and everything is literally a dollar or less! I got the little white rocks from the dollar tree, as well. In total, I spend $2.36!
I have noticed many Instagramers began decorating their doors and entryways months ago, but I just recently joined the trend. I didn't think it was possible to decorate on a budget, but it was! In total, I spend $44.07!
Don't forget to like, share, and follow this blog for more DIY tricks and tips! As always, thanks for viewing!